Round 3 Chopp Vs Spear
Seattle deserves better! Watch as Jess Spear holds Frank Chopp accountable for his record.
The King of Corporate Welfare has found piles of cash to give tax handouts to his big business campaign donors while claiming the treasury is empty when it comes to expanding human services in the state of Washington.
In their only televised debate, Spear demands accountability for Chopp's stance against marriage equality. She takes him down for claiming to be a champion of affordable housing while being the 20 year incumbent for the district that has the 8th worst affordable housing in the nation.
 Seattle Channel is showing the debate all weekend, so check it out:
| | |
| --- | --- |
| Friday, October 17, 2014 |  7:00 p.m. |
|   Saturday, October 18, 2014 |  1:00 a.m. |
|   Saturday, October 18, 2014 |  8:30 a.m. |
|   Saturday, October 18, 2014 |  1:30 p.m. |
|   Saturday, October 18, 2014 |  6:30 p.m. |
|   Sunday, October 19, 2014 |  1:30 a.m. |
|   Sunday, October 19, 2014 |  10:30 a.m. |
|   Sunday, October 19, 2014 |  10:00 p.m. |
Seattle Weekly's Election issue has extensive coverage of the most exciting candidate this cycle: Jess Spear! In addition to a radical cover, they wrote two hard hitting articles featuring Jess extensively.
In an article questioning why more scientists aren't being compelled by worrisome climate data to run for positions where they can directly affect policy, Jess said:
"The political system is holding climate action hostage in order to make profits at the expense of human life, nonhuman life, and the environment."
She's the only politician who is not beholden to the major corporations holding the purse strings of the two major parties, so she is fighting for a sustainable future for working people.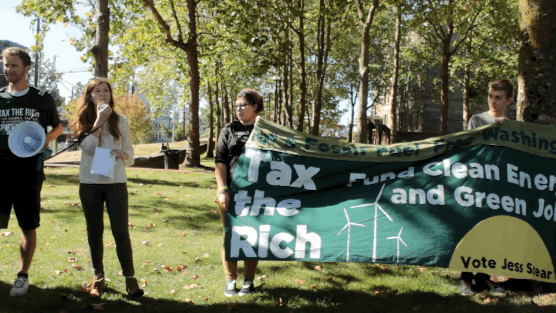 The Seattle Weekly also dissected what rent control might mean for the Emerald city. In a snippet that really underlines how Jess Spear differs from career, corporate politicians, she says of political reception to rent control initiatives:
"It's not 'Where are the legislators?' It's 'What do the people need?' " Taking the temperature of legislators, she continues, is not how the battle for a $15 minimum wage was won. Rather, says Spear, the organizing director of 15 Now, it was won through a "broad-based movement"—the kind she's now trying to build around rent control.
This extensive coverage shows that there is a real excitement for the kind of politics Jess Spear represents: bold demands for supporting the working class while holding big business and the super-wealthy accountable for the tax-handouts they don't need or deserve.
Help Vote Spear have the maximum impact in this grassroots campaign: donate now!
As the Slog covered yesterday, students are struggling with a real affordability crisis in Seattle. 
The math is simple: students are recommended to work a maximum of 20 hours in order to be able to focus on their studies, but those paychecks are not enough to pay for the skyrocketing rents in Seattle--much less food, utilities and tuition.
Students have come to expect mortgaging their futures away to pay outsized tuition--even at state schools--but the spikes in cost of living in cities like Seattle has meant that those loans now have to grow to cover living expenses during enrollment. All this in a backdrop of one of the worst job markets, where students are more and more likely to default on the loans they have already taken out!
Education should not be a debt sentence! Basic housing and food needs should be a right for anyone focusing on their education, especially if they are taking on the extra burden of working while going to school.
Rent control would stabilize rent costs and keep them within the reach of average people in Seattle. Students need to mobilize alongside SHA activists and overburdened renters around the city to fight for a massive expansion in affordable housing. Jess Spear has made rent control and an expansion of affordable housing a main cornerstone of her platform, but just as the vital 15/hr victory was won through a mass movement, affordable housing needs mass unity to win.
Join our campaign, and help spread the movement for affordable housing!
Coalition of Immigrants, Refugees and Communities of Color (CIRCC) hosted a candidate forum this past Saturday, and it gave Frank Chopp and Jess Spear another opportunity to face off.
Jess Spear made a big splash. Rather than mutely agreeing to support CIRCC's initiatives, Spear made bold demands to tax the super-wealthy in order to fund vital social services. Crosscut's reporter was struck by the popular response to Spear's comments:
"Spear [...] was by far the most impassioned speaker of the day. She answered the moderators' questions, but went further than any other candidate, bluntly calling for more taxes on the wealthy and on Boeing. [...S]he impressed the crowd, many of whom had never heard of her. Ignoring for the first time all day the call to hold applause until the end, the crowd erupted several times during her remarks."
Watch for yourself:
And the CIRCC's video actually clips Spear short at the end--watch the ending one of our team members caught on camera:
We are in full swing of our first major lit drop, and we need your help!
We are systematically distributing 25,000 leaflets with the help of our amazing volunteers. With everyone doing a small part, it'll be easy:
1. Sign up for a precinct (You can stop by the office, sign up online or call 206-639-9559)
2. We'll give you a map highlighting the specific area for you to target and a bundle of 500 door-hangers.
3. Hang a door-hanger on EVERY door in your assigned precinct.
Check out the bold door-hanger you'll be distributing:
Vote Spear has an exciting weekend plan coming up! Our strength comes from all of the people who support our campaign, and we have some exciting opportunities to plug-in coming up.
Saturday:
Exciting Get Out The Vote Kick-off
Saturday-Tuesday:
A massive 43rd District literature drop that is going to put corporate criminals on watch.
"While Chopp brandishes 'this or that' legislation passed during two decades in Olympia," [Jess Spear] said, "schools are unconstitutionally underfunded, [yet] lawmakers rushed into special session to hand Boeing a $9 billion tax break."
Eastlake Community Council's modest meeting was the setting for a passionate debate. So far, the Pocock Rowing Center is the only venue 20 year incumbent Frank Chopp has agreed to openly debate Jess Spear. Spear used the opportunity to continuously challenge Chopp to defend his record-breaking corporate handouts. Audience members noted Chopp's reluctance to engage in a real dialog, while Spear gave real proposals for funding the needs of working people.
Donate to a fighter for working people, Vote Spear!
Don't take our word for it! Watch for yourself:
We are pleased to unveil the first of many exciting speakers for our Get Out The Vote Launch this Saturday, October 11th at Gas Works Park.
Jen Wallis, who has been a tireless fighter in her union, has endorsed Jess Spear. She has waged a grassroots campaign to unite railway workers nationally and also acted as a whistle-blower against the dangerous, hazmat laden BNSF trains. Her fighting spirit and broad organizing tactics are exactly the elements necessary to win this grassroots campaign for the 43rd District.
Check out Jen Wallis' rabble rousing speech at the Climate Rally last month for a taste of what to expect from her contribution this Saturday.
At the opening of a new Hobby Lobby in north Seattle, large numbers of women and allies showed up to the all-day picket of the corporation that has been handed the right to discriminate against women by the conservative dominated Suprem
e Court. Women outraged at this naked roll back of hard-won women's access laws have taken to the streets throughout the country to protest Hobby Lobby and now call for a boycott. In Seattle, the large numbers of picketers and the popular support from passers-by show the outrage and consciousness of an ongoing attack against women's rights.
Hobby Lobby drew this anger by denying female employees access to certain types of birth control due to the religious beliefs of the owners - in a 5-4 decision, the Supreme Court upheld their attack on women. 
The picket line in front of the new north Seattle Hobby Lobby was a variety of women and allies expressing their outrage. The Democratic Party establishment have tried to take advantage of this spark to put some energy into their lackluster midterm election campaigns. Their claim: elect Democrats, who will draft legislation to improve women's access to doctor approved, highly successful birth control. However it is corporate politicians of both parties who are responsible for this situation - the Republicans for pushing anti-woman legislation, and the Democrats for not putting up a fight!
Yet, this is just one strike in an ongoing trend of attacks on women. In the recent Washington state budget, pushed through by speaker of the house Frank Chopp, 4.9 million dollars are cut from family planning human services. In the summary of the expected outcomes of this brutal cut, legislators baldly state that they anticipate "increased health disparities by not serving people." As if under-serving those most in need were not enough, these "belt-tightening" measures don't even follow the logic of the finance committee's findings: every $1 spent on family planning services ultimately saves $4 in lowered rates of unintended pregnancy and improved maternal and child health outcomes.
If neither serving those most in need, nor efficiently investing public money is on the list of priorities for Frank Chopp, how can re-electing him help fight the right wing attack on women's health? If those in power are completely willing to pass budgets that they know will hurt vulnerable populations, why would we think they'll change if reelected?
Working people need genuine fighting politicians in Olympia, not just lip service. Poverty and lack of access to health services is a violent attack on women and their families. "Rather than electing more Democrats so that we can get our rights back," Jess Spear said in an interview at the most recent Hobby Lobby protest, "we need to build an independent mass movement of women and all the allies of women that fights for exactly what we need." What we need is fully funded services, a roll back of all the legislative barriers between women and health services-- but these things will not be handed over without a massive public fight back!
Please join the Vote Spear team in supporting movements to protect and extend women's rights. Volunteer, Donate, Rally and get out to vote!