Seattle Weekly asks: is it time to bring back rent control in Seattle?
In their up-coming print edition, Seattle Magazine throws its hat into the ring for the rent control debate. 
They cite Jess Spear for challenging the establishment, and really forcing the issue of finding real solutions for people being priced out of Seattle by runaway rent hikes.
They also point to Socialist Councilmember Kshama Sawant as ready to lead the way on rent control in Seattle as soon as the state-wide ban is lifted.
While the legislative debate rages on, one thing is resoundingly clear: campaigning on fighting issues that affect the working people of Seattle is creating the space for building a movement and creating real pressure on all elected officials.
Oil Trains Back in the News
Queen Anne News Reports: Fueling the Debate
Seattle sports fans: ever noticed the train tracks next to the stadiums? Every day these tracks carry two or more trains carrying highly explosive oil from North Dakota - putting fans at a huge risk should there be an accident.
Worryingly, it could easily happen here. Earlier this year, a train derailed under the Magnolia bridge, less than an hour after passing the stadiums.
The serious danger posed to the tens of thousands of Seattle residents who live in the blast zone, and the major stadiums often packed with tens of thousands more is UNACCEPTABLE.
Local news site Queen Anne News featured Jess Spear in an article about the debate over oil trains running through Seattle. Though they ultimately give the last word to the oil and rail companies, the very real dangers posed by these bombs on wheels cannot be so easily dismissed.
In 2013 a similar oil train in Quebec exploded
and leveled four blocks, yet Seattle city and state officials had not warned residents, nor had they instructed firefighters to develop emergency procedures until Jess Spear sat on the tracks this August. Jess Spear called out those profiteering from these volatile trains: "oil and railroad companies are gambling our lives and our environment for the sake of ever greater profits." 
We should use the presence of these oil trains to push for a fossil fuel free Washington. The oil they transport will be burned and further exacerbate global warming. We need a real solution: rapid investment in green energy and transition away from the dangerous fossil fuel economy.
Dear Volunteers,
This past week has been filled with enormous success. We got 25,000 doorhangers distributed across the district, Jess Spear demolished Frank Chopp in a debate by holding him to the fire for being a corporate sell-out and not making any meaningful progress on the housing crisis or our super-regressive tax system.
Last weekend, over 100 people came out to 8 standouts for Jess Spear across the district. This weekend, we're cranking up the heat even more! We'll be doing 14 Standouts this weekend!
Welcome the The Weekend of 14 Standouts - starting at the Sounders game and ending at the Huskies game. Let's make this campaign loud & proud. We need to show people that in this election we have an alternative to corporate politics!
Which standouts can you come to?
Round 3 Chopp Vs Spear
Seattle deserves better! Watch as Jess Spear holds Frank Chopp accountable for his record.
The King of Corporate Welfare has found piles of cash to give tax handouts to his big business campaign donors while claiming the treasury is empty when it comes to expanding human services in the state of Washington.
In their only televised debate, Spear demands accountability for Chopp's stance against marriage equality. She takes him down for claiming to be a champion of affordable housing while being the 20 year incumbent for the district that has the 8th worst affordable housing in the nation.
 Seattle Channel is showing the debate all weekend, so check it out:
| | |
| --- | --- |
| Friday, October 17, 2014 |  7:00 p.m. |
|   Saturday, October 18, 2014 |  1:00 a.m. |
|   Saturday, October 18, 2014 |  8:30 a.m. |
|   Saturday, October 18, 2014 |  1:30 p.m. |
|   Saturday, October 18, 2014 |  6:30 p.m. |
|   Sunday, October 19, 2014 |  1:30 a.m. |
|   Sunday, October 19, 2014 |  10:30 a.m. |
|   Sunday, October 19, 2014 |  10:00 p.m. |
Seattle Weekly's Election issue has extensive coverage of the most exciting candidate this cycle: Jess Spear! In addition to a radical cover, they wrote two hard hitting articles featuring Jess extensively.
In an article questioning why more scientists aren't being compelled by worrisome climate data to run for positions where they can directly affect policy, Jess said:
"The political system is holding climate action hostage in order to make profits at the expense of human life, nonhuman life, and the environment."
She's the only politician who is not beholden to the major corporations holding the purse strings of the two major parties, so she is fighting for a sustainable future for working people.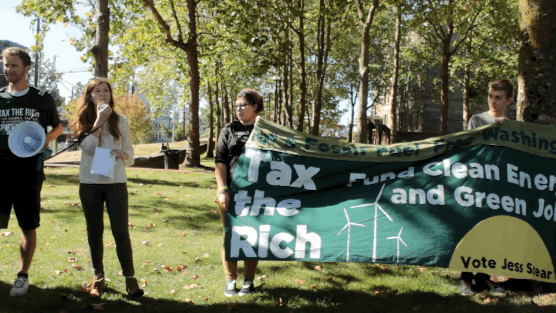 The Seattle Weekly also dissected what rent control might mean for the Emerald city. In a snippet that really underlines how Jess Spear differs from career, corporate politicians, she says of political reception to rent control initiatives:
"It's not 'Where are the legislators?' It's 'What do the people need?' " Taking the temperature of legislators, she continues, is not how the battle for a $15 minimum wage was won. Rather, says Spear, the organizing director of 15 Now, it was won through a "broad-based movement"—the kind she's now trying to build around rent control.
This extensive coverage shows that there is a real excitement for the kind of politics Jess Spear represents: bold demands for supporting the working class while holding big business and the super-wealthy accountable for the tax-handouts they don't need or deserve.
Help Vote Spear have the maximum impact in this grassroots campaign: donate now!
As the Slog covered yesterday, students are struggling with a real affordability crisis in Seattle. 
The math is simple: students are recommended to work a maximum of 20 hours in order to be able to focus on their studies, but those paychecks are not enough to pay for the skyrocketing rents in Seattle--much less food, utilities and tuition.
Students have come to expect mortgaging their futures away to pay outsized tuition--even at state schools--but the spikes in cost of living in cities like Seattle has meant that those loans now have to grow to cover living expenses during enrollment. All this in a backdrop of one of the worst job markets, where students are more and more likely to default on the loans they have already taken out!
Education should not be a debt sentence! Basic housing and food needs should be a right for anyone focusing on their education, especially if they are taking on the extra burden of working while going to school.
Rent control would stabilize rent costs and keep them within the reach of average people in Seattle. Students need to mobilize alongside SHA activists and overburdened renters around the city to fight for a massive expansion in affordable housing. Jess Spear has made rent control and an expansion of affordable housing a main cornerstone of her platform, but just as the vital 15/hr victory was won through a mass movement, affordable housing needs mass unity to win.
Join our campaign, and help spread the movement for affordable housing!
Coalition of Immigrants, Refugees and Communities of Color (CIRCC) hosted a candidate forum this past Saturday, and it gave Frank Chopp and Jess Spear another opportunity to face off.
Jess Spear made a big splash. Rather than mutely agreeing to support CIRCC's initiatives, Spear made bold demands to tax the super-wealthy in order to fund vital social services. Crosscut's reporter was struck by the popular response to Spear's comments:
"Spear [...] was by far the most impassioned speaker of the day. She answered the moderators' questions, but went further than any other candidate, bluntly calling for more taxes on the wealthy and on Boeing. [...S]he impressed the crowd, many of whom had never heard of her. Ignoring for the first time all day the call to hold applause until the end, the crowd erupted several times during her remarks."
Watch for yourself:
And the CIRCC's video actually clips Spear short at the end--watch the ending one of our team members caught on camera:
We are in full swing of our first major lit drop, and we need your help!
We are systematically distributing 25,000 leaflets with the help of our amazing volunteers. With everyone doing a small part, it'll be easy:
1. Sign up for a precinct (You can stop by the office, sign up online or call 206-639-9559)
2. We'll give you a map highlighting the specific area for you to target and a bundle of 500 door-hangers.
3. Hang a door-hanger on EVERY door in your assigned precinct.
Check out the bold door-hanger you'll be distributing:
Vote Spear has an exciting weekend plan coming up! Our strength comes from all of the people who support our campaign, and we have some exciting opportunities to plug-in coming up.
Saturday:
Exciting Get Out The Vote Kick-off
Saturday-Tuesday:
A massive 43rd District literature drop that is going to put corporate criminals on watch.