Kshama Sawant, Seattle City Councilmember, speaks about the impact of the Vote Spear campaign.
Challenging Corporate Politicians Requires Stamina - But It's Worth It
Seattle Socialist Alternative Statement
Also posted on SocialistAlternative.org
With 16% for Jess Spear of the votes counted so far, Socialist Alternative evaluates its campaign which had a major impact in advancing the discussion on rent control, taxing the rich, and corporate politics.
Socialist Alternative candidate Jess Spear's campaign against Frank Chopp - the most powerful legislator in Washington State - was strong enough to force Chopp to perform a bizarre masquerade.  The 20-year Democratic incumbent and Speaker of the House for the past 16 years, portrayed himself as a "progressive activist," despite overseeing record handouts to corporations like Boeing year after year.
Under the pressure of the Spear campaign, Chopp claimed to be for rent control despite doing nothing to advance it over his 20-year tenure, including having years of a Democratic super-majority in both chambers of the legislature and a Democratic Governor.  Chopp claimed to be an early advocate in the fight for $15 yet failed to get a $12 minimum wage out of committee.  Despite being held in contempt of court by the state Supreme Court for criminally underfunding education, Chopp presented himself as a champion of school funding.
Jess Spear soundly defeated Chopp in all the debates.  The campaign mounted a strong grassroots effort mobilizing volunteers, distributing over 50,000 leaflets, putting up thousands of posters and yard signs, and raising a phenomenal $76,000 in donations from over 650 people - without taking a dime in corporate cash.
Spear's campaign succeeded in forcing a debate in the mass media and the wider public on the need for rent control, the underfunding of education, and ending the billions in handouts to Boeing and other big corporations.  The campaign also played a decisive role in organizing the People's Climate March in Seattle on September 21, drawing 2,000 people to the rally and hundreds to blockade oil and coal trains. 
Read more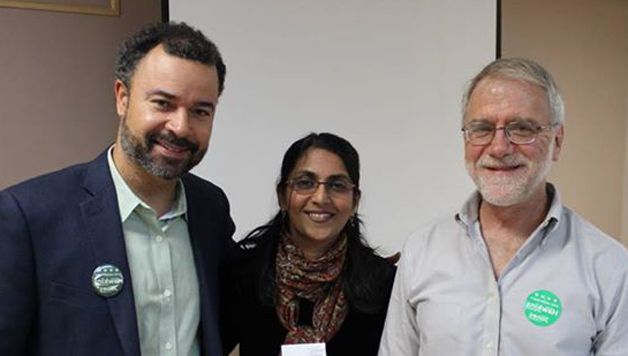 The space for independent left politics is growing. With record levels of poverty, ongoing war, environmental destruction, the situation cries out for an alternative to corporate politics. From Ferguson, to 15 Now, to climate change – there is a growing determination to take action to win. In this context, more and more independent left candidates are stepping forward and gaining increased support.
The strongest possible votes for key left campaigns can get activists the profile and preparation to build struggles against poverty wages, fracking, police brutality and the injustices of corporate domination. These results can be an important step towards what is really needed–a mass new party for the 99% that runs candidates, builds movements and refuses to take a dime in corporate money.
So please volunteer on election day for
Howie Hawkins
, Green Party candidate for New York State Governor and
Jess Spear
, Socialist Alternative candidate for Washington state house.
We also need a plan to continue this momentum in 2015. Kshama Sawant faces a monumental re-election campaign in Seattle next year. Big business is determined to defeat the socialists and the growing movements of low-wage workers, anti-racist activists and the battles against gentrification that Kshama has helped to lead.
The discussions around the 2016 Presidential elections will only intensify, and the left has a historic opportunity to get millions of votes and build a new, prominent force that can drastically change the political debate in this country. In order to get organized to take advantage of this situation, there need to be rallies and conferences in early 2015 to get prepared and talk about the necessary next steps. Large, well-attended events in different parts of the country, connecting social movements and independent left politics, could lay the foundation for the strongest-ever left political challenge to the establishment in decades.
Join us in making this a reality: Donate! Organize! Help us build and join the debate about the next steps for this growing movement.
Solidarity!
Kshama Sawant, Howie Hawkins
Socialist Alternative Ballot Recommendations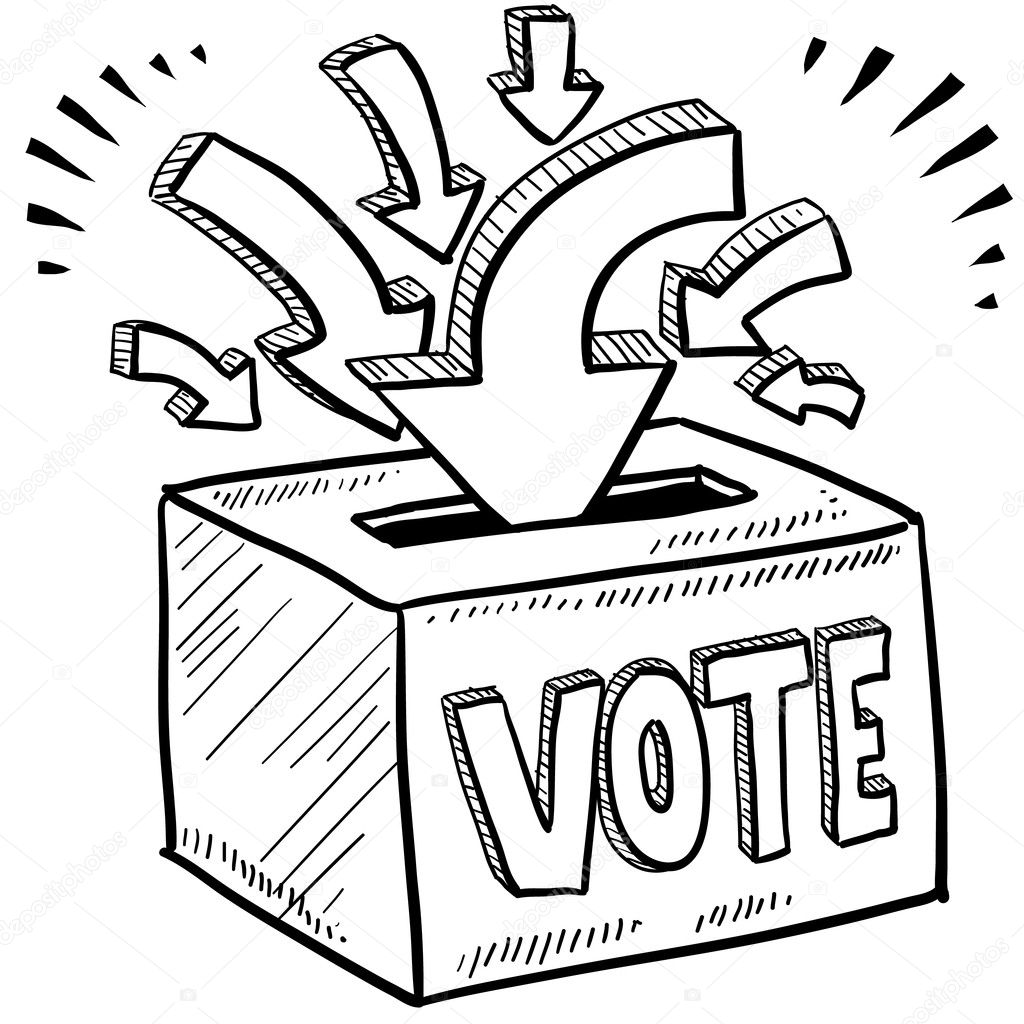 1.  State Initiative 1351 - Reduce K-12 Class Sizes – Vote Yes

2. Initiatives to the Legislature 594 and 591 – Gun Control – Vote Yes on 594, No on 591

3. City Transportation Benefit District - Proposition 1 – Vote Yes


 ------------------------------------------------------------------

State Initiative 1351 - Reduce K-12 Class Size - YES
Smaller class sizes are consistently linked to quality education.  Smaller class sizes enable students to receive more individualized instruction and attention. In spite of being a wealthy state, Washington has among the highest class sizes in the country, which seriously undermines education while also reducing the availability of good union jobs.
Unfortunately, politicians from the Democratic Party establishment (as well as the Republican Party) argue against I-1351, claiming that it is unfunded. These are the same elected officials who were ruled in contempt of the State Supreme Court for criminally underfunding education and yet found $9 billion of our tax-dollars to give Boeing executives in a 3-day emergency legislative session.

We can easily fully fund our schools, by rescinding the massive tax handout to Boeing executives, or by eliminating the $6 billion handed out in corporate tax breaks every year. Washington State should tax the huge corporate profits that our hard work has created to provide funding for education and I-1351.
Initiatives 594 and 591 to the Legislature: Gun Control

YES on 594, NO on 591
Initiative 594 will close the "Gun Show" loopholes and force all firearm sales to be subject to a background check. All sales of guns need to have the same rules to help protect ourselves from the epidemic of gun violence, whether through Craigslist or at gun shows.
However, Socialist Alternative also had this to say following the tragic school shooting in Newtown, CT: "Any discussion on reducing access to these weapons should also address the militarization of the police and other security forces which are now used to intimidate peaceful protests by social activists, including the Occupy movement."


City Transportation Benefit District - Proposition 1 - YES
Although this proposal is not progressively funded and is based on raising sales tax and increasing car tab fees, it is still necessary to reverse the recent deep cuts to Seattle bus service and ensure Metro transit is fully funded. Our campaign strongly preferred the proposal put forward by Seattle City Councilmembers Sawant and Licata that would have replaced the sales tax with a progressive corporate head tax and increased parking fees on business.  However, even these initial steps to tax corporations instead of working people were not supported by the conservative majority on the city council and Mayor Murray.
Public transportation is a critical service that reduces traffic for everyone, and it's an essential environmental step to reduce our reliance on fossil fuels.
Vote Yes to restore and expand bus service. However, the struggle must continue to fix our unjust tax system and build high quality mass transit affordable to all.
Seattle Weekly asks: is it time to bring back rent control in Seattle?
In their up-coming print edition, Seattle Magazine throws its hat into the ring for the rent control debate. 
They cite Jess Spear for challenging the establishment, and really forcing the issue of finding real solutions for people being priced out of Seattle by runaway rent hikes.
They also point to Socialist Councilmember Kshama Sawant as ready to lead the way on rent control in Seattle as soon as the state-wide ban is lifted.
While the legislative debate rages on, one thing is resoundingly clear: campaigning on fighting issues that affect the working people of Seattle is creating the space for building a movement and creating real pressure on all elected officials.
Oil Trains Back in the News
Queen Anne News Reports: Fueling the Debate
Seattle sports fans: ever noticed the train tracks next to the stadiums? Every day these tracks carry two or more trains carrying highly explosive oil from North Dakota - putting fans at a huge risk should there be an accident.
Worryingly, it could easily happen here. Earlier this year, a train derailed under the Magnolia bridge, less than an hour after passing the stadiums.
The serious danger posed to the tens of thousands of Seattle residents who live in the blast zone, and the major stadiums often packed with tens of thousands more is UNACCEPTABLE.
Local news site Queen Anne News featured Jess Spear in an article about the debate over oil trains running through Seattle. Though they ultimately give the last word to the oil and rail companies, the very real dangers posed by these bombs on wheels cannot be so easily dismissed.
In 2013 a similar oil train in Quebec exploded
and leveled four blocks, yet Seattle city and state officials had not warned residents, nor had they instructed firefighters to develop emergency procedures until Jess Spear sat on the tracks this August. Jess Spear called out those profiteering from these volatile trains: "oil and railroad companies are gambling our lives and our environment for the sake of ever greater profits." 
We should use the presence of these oil trains to push for a fossil fuel free Washington. The oil they transport will be burned and further exacerbate global warming. We need a real solution: rapid investment in green energy and transition away from the dangerous fossil fuel economy.
Dear Volunteers,
This past week has been filled with enormous success. We got 25,000 doorhangers distributed across the district, Jess Spear demolished Frank Chopp in a debate by holding him to the fire for being a corporate sell-out and not making any meaningful progress on the housing crisis or our super-regressive tax system.
Last weekend, over 100 people came out to 8 standouts for Jess Spear across the district. This weekend, we're cranking up the heat even more! We'll be doing 14 Standouts this weekend!
Welcome the The Weekend of 14 Standouts - starting at the Sounders game and ending at the Huskies game. Let's make this campaign loud & proud. We need to show people that in this election we have an alternative to corporate politics!
Which standouts can you come to?
Round 3 Chopp Vs Spear
Seattle deserves better! Watch as Jess Spear holds Frank Chopp accountable for his record.
The King of Corporate Welfare has found piles of cash to give tax handouts to his big business campaign donors while claiming the treasury is empty when it comes to expanding human services in the state of Washington.
In their only televised debate, Spear demands accountability for Chopp's stance against marriage equality. She takes him down for claiming to be a champion of affordable housing while being the 20 year incumbent for the district that has the 8th worst affordable housing in the nation.
 Seattle Channel is showing the debate all weekend, so check it out:
| | |
| --- | --- |
| Friday, October 17, 2014 |  7:00 p.m. |
|   Saturday, October 18, 2014 |  1:00 a.m. |
|   Saturday, October 18, 2014 |  8:30 a.m. |
|   Saturday, October 18, 2014 |  1:30 p.m. |
|   Saturday, October 18, 2014 |  6:30 p.m. |
|   Sunday, October 19, 2014 |  1:30 a.m. |
|   Sunday, October 19, 2014 |  10:30 a.m. |
|   Sunday, October 19, 2014 |  10:00 p.m. |
Seattle Weekly's Election issue has extensive coverage of the most exciting candidate this cycle: Jess Spear! In addition to a radical cover, they wrote two hard hitting articles featuring Jess extensively.
In an article questioning why more scientists aren't being compelled by worrisome climate data to run for positions where they can directly affect policy, Jess said:
"The political system is holding climate action hostage in order to make profits at the expense of human life, nonhuman life, and the environment."
She's the only politician who is not beholden to the major corporations holding the purse strings of the two major parties, so she is fighting for a sustainable future for working people.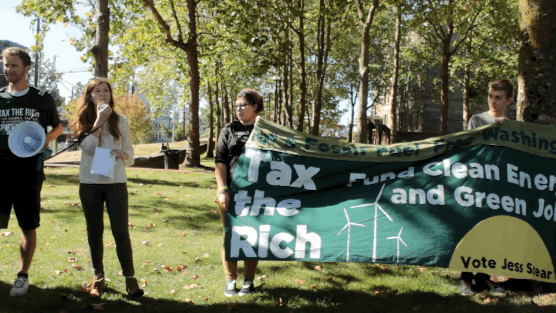 The Seattle Weekly also dissected what rent control might mean for the Emerald city. In a snippet that really underlines how Jess Spear differs from career, corporate politicians, she says of political reception to rent control initiatives:
"It's not 'Where are the legislators?' It's 'What do the people need?' " Taking the temperature of legislators, she continues, is not how the battle for a $15 minimum wage was won. Rather, says Spear, the organizing director of 15 Now, it was won through a "broad-based movement"—the kind she's now trying to build around rent control.
This extensive coverage shows that there is a real excitement for the kind of politics Jess Spear represents: bold demands for supporting the working class while holding big business and the super-wealthy accountable for the tax-handouts they don't need or deserve.
Help Vote Spear have the maximum impact in this grassroots campaign: donate now!